Affiliate Membership
Our Affiliate Members enjoy a buffet of exclusive resources that help them develop in-house risk management expertise and custom risk management plans and policies. Join our Affiliate Member family to show your stakeholders how your nonprofit can thrive in the face of risk! An estimated 45,000 nonprofit organizations enjoy access to NRMC Affiliate Member benefits.
Affiliate Member Benefits
Affiliate Member Spotlight
MANP (Maine Association of Nonprofits)

About MANP:
Mainers count on our nonprofits and Maine nonprofits count on MANP. When nonprofits get smarter, stronger and more sustainable, bigger results can happen. MANP is the voice of Maine's nonprofit sector and the state's comprehensive resource for the tools, knowledge and connections nonprofits need to be effective and well-run. Founded in 1994, MANP is a membership organization that advocates on behalf of the sector and provides guidance on best practices, management training, research and assessment tools, and cost-savings programs.
MANP was the first ever Affiliate Member of the Nonprofit Risk Management Center.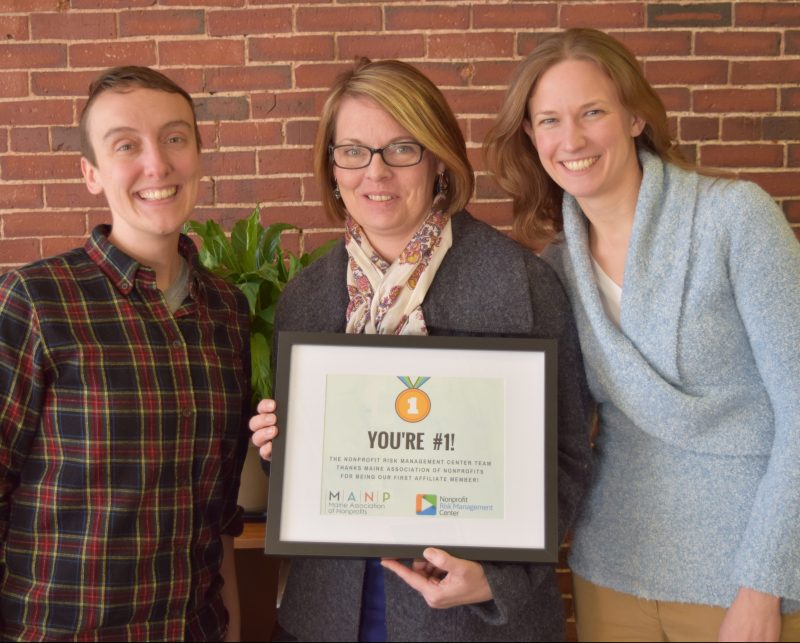 What program makes the MANP team the proudest? 
Our executive transitions, organizational leadership and capacity development. We've recently released our Mission-Driven Executive Transitions Toolkit. It's designed to give small to mid-sized organizations everything they need to design a thoughtful process to find an executive director who fits the current and future leadership needs of the organization. This easy-to-follow 30-page toolkit will walk your board through the three phases of executive transitions management: Prepare: Sharpen strategic direction and assess strengths, opportunities, and risks. Search: Identify and hire a new chief executive, while also stabilizing the organization in preparation for a new leader. Thrive: Support the new leader to get off to a good start.
As a nonprofit resource center, what sorts of trends does the MANP team see in the next 5 years? 
Nonprofits are on the verge of losing large numbers of leaders; almost half of our members report that they anticipate a leadership change in the next five years, and other estimates are even more dramatic.  Yet organizations are unprepared for these executive transitions, and for many the topic remains taboo. Now is a critical moment to shift the mindset about succession planning to one of deeper sustainability planning.  This type of succession planning is not about, or just about, what to do when your executive director leaves. At its core, it is a strategy for keeping mission in the forefront as your organization navigates inevitable change. It is a process to identify organizational values and develop practices that safeguard the important work of your organization. There is risk in transition, but there is also enormous opportunity, and we all must step up to the challenge. MANP is committed to supporting mission-driven leadershifts.
How has the Nonprofit Risk Management Center Affiliate Program helped MANP accomplish more? 
NRMC is a trusted, reliable source for our members of free technical assistance, guidance, training and tools in all aspects of risk. We have also benefited ourselves from their expertise in making strategic decisions about our future.  Because our members find great value in NRMC's advice, webinar vault and newsletters, MANP can focus our resources on other areas that need attention. MANP has found also them to provide energizing speakers over the years.
Our Affiliate Member Community
Pricing
Nonprofit Organizations
$900
per year
*Umbrella nonprofit organizations are welcome to share Affiliate Member benefits with their own members, chapters, or affiliates.
For-Profit Businesses
$1,500
per year
*For-profit firms with 500 or fewer nonprofit clients OR $10 Million or less in annual revenues are eligible to participate in the Affiliate Member program.
Join Us Today!
Want to learn more? Call Kay Nakamura, our Director of Client Solutions and steward of our Affiliate Member family: 703.777.3504.
Affiliate Member dues are payable annually or in monthly installments.